"Tales from Frontiers – Treshold of the Visible"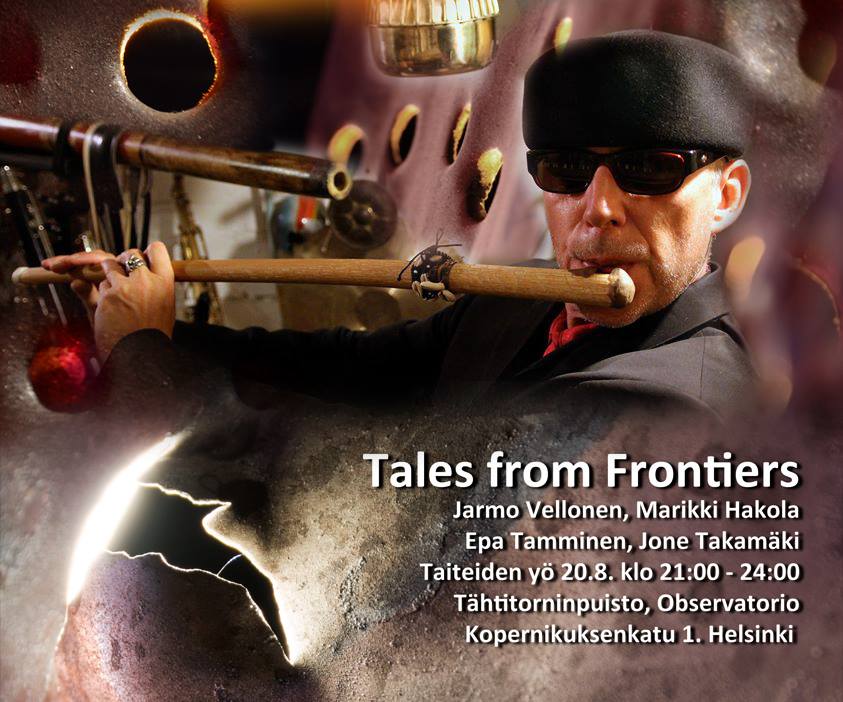 Live Outdoor Performance with the Film Projection
Performance Team
Sculpture: Jarmo Vellonen
Camera and Editing: Marikki Hakola
Soundtrack, lights: Epa Tamminen
Woodwinds: Jone Takamäki
Supportion: Finnish Cultural Foundation, The Promotion Centre for Audiovisual Arts AVEK
Production: Kroma Productions Ltd 2015
Duration: 4 x 15 min.
Premiere: 20.8.2015 at the Media Facades Festival Helsinki
Screenings at the ARTEGROUND BALTIC 2017, Viljandi, Estonia, 28.-29.8.2017 at 18:00 – 19:00
Media Facades Festival Helsinki / Tales from Frontiers
Distributor: Kroma Productions Ltd.
More Information -> Facebook
Tales from Frontiers is an outdoor media performance consisting of facade video projection, soundtrack and live music performance. The visual elements of the project come forth, change and hide in the continuum of lights, shadows and tones of the video projection. Are these the signs of a life once lived, or pieces of a language long since disappeared, or perhaps the remains of structures mangled by war? When looking at our environment, does our perception capture the whole or just the details? The work invites viewers to form their own interpretation.
The project opens the 2015 festival's Night Sites series, where a new site-specific work is opened each night at a special location. In Tales from Frontiers, the projection is made on the facade of the historical building Helsinki Observatory, originally designed by C. L. Engel and completed in 1834. The building houses the Centre for Astronomy, collaborating closely with the Ursa Astronomical Association, the discipline of astronomy and LUMA Centre of the University of Helsinki as well as the City of Helsinki.
The soundscape is a combination of a soundtrack and instrumental live improvisation for woodwinds, such as duduk and shakuhachi, played by musician Jone Takamäki.
Tales from Frontiers, August 20, 9.00 – 12.00 PM at Tähtitornin puisto, Kopernikuksenkatu 1. Live music improvisation by Jone Takamäki 9.30-10 PM and 10.45-11.00 PM. The Observatory is open until 10 pm and the Science cafe until 12 pm.
The project is part of the Observemus event, realized in collaboration with the Runokuu poetry festival.
Tales from Frontiers is a collaborative work between visual artist Jarmo Vellonen, media artist Marikki Hakola, sound designer Epa Tamminen and musician Jone Takamäki. "Tales of Frontiers" live performance is based on the materials of the installation "Frontiers".
Live performance pictures by Kimmo Mustonen.