Director: Turppi Group
Genre: Video Art, Performance
Duration: 17 min.
Production Year: 1983
Master Format: PRO RES HQ, PAL 4:3
Audio: Stereo
Language: No language
Distributors:
Kroma Productions Ltd.
AV-arkki
More about the Turppi Group: Short History
Facebook site: www.facebook.com/TurppiGroup
Synopsis

The video work Deadline, the second video piece of the Turppi Group, was shot in Helsinki, at Katajanokka, in a worn-out Sea Barracks building from the days of Czarist Russia. Shootings were made in the exterior of the old execution yard of Sea Barracks and in the "Greenhouse" that Turppi Group had been built inside of the Sea Barracks interiors. Material for the video was shot also at the building site of large department store Forum that was being built in downtown Helsinki at that time.

The idea for work "Deadline" was born from the feelings associated with the disappearance of old buildings that had been doomed to demolition. There were several wrecking crews rampaging at the downtown Helsinki. Old poetic buildings were being cleared away to make space for new shopping buildings.
Turppi Group built an installation "Greenhouse" at the Sea Barracks, which was literally growing from roof to floor. Earth ingredients, stones, rubble, mould were brought to this space. The space was sowed with wheat and grass plants, moss was planted. Sand and mould were glued on walls for the grass to grow upon. Cloths were also hanged upon the walls, on which grass was planted. The "Greenhouse" was documented on the video work "Deadline." The "Greenhouse" formed a peaceful islet in the midst of an urban culture.

In the video work "Deadline", the development of modern commercial city spaces is compared with colonial violence and oppression. The rabid demolition which preceded the building of Helsinki downtown's commercial complexes and the partial demolition of late 18th century barracks devastated decrepitness and worn-out wastelands. But at the same time, they destroyed also memories, past way of life and signs of history seen in living environment, qualities that tell us about other forms of life.
The video work "Deadine" presents the renewing powers of nature as the antithesis of the ideology of endless growth symbolized by urban environment. The black line of the work – deadline – is not in the end drawn between life and death, but between two opposite worldviews.
Credits
Turppi Group: Marikki Hakola, Lea Kantonen, Pekka Kantonen, Martti Kukkonen, Jarmo Vellonen
Script, Direction, Camera, Editing: Turppi Group
Music: Tuomas Airola
Digital Remastering: Kroma Productions Ltd. 2012
Production: © Turppi Group 1983
TRAILER
Press images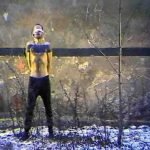 Production categories