Media Artist: Raimo Uunila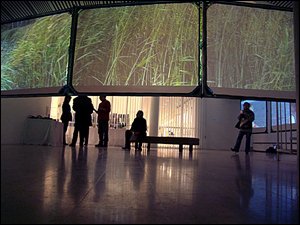 Genre: Installation, Video Art, Experimental
Duration: 11 min. loop
Production Year: 2001
Master Format: 3 screens, Beta SP PAL 4:3,
Audio: Stereo
Language: No language
Distributor: Grape Productions Ltd.
Synopsis
"Contra" is made up of scenes looking for mental and physical balance and goals understood as various alternatives. In Contra life forces and their counter forces are played out against each other. The narration of Contra is based on the dramaturgy of symbolic level of situations and actions.
Credits
Script, Direction, Photography and Editing: Raimo Uunila
Sound Design and Sound Mix: Epa Tamminen
Lighting: Jouni Lähteenaho
Camera: Raimo Uunila, Riku Makkonen
Underwater Camera: Atte Kaartinen
Production Manager: Suvi Soitinaho
Producers: Marikki Hakola, Raimo Uunila / KROMA Productions Ltd 2001
Production categories