LÄNSI-UUDENMAAN MUSEOPORTAALI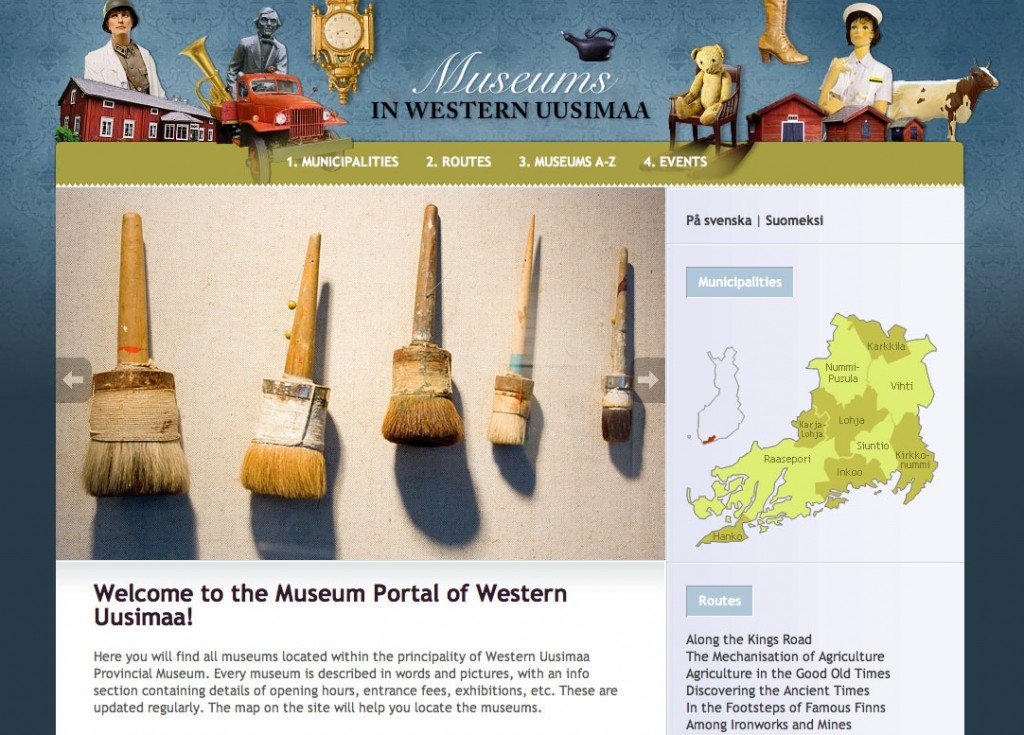 VÄSTRA NYLANDS MUSEIPORTAL
Web Sites:
Synopsis
The Museum Portal of Western Uusimaa is a guide, where you will find all museums located within the principality of Western Uusimaa Provincial Museum. Every museum is described in words and pictures, with an info section containing details of opening hours, entrance fees, exhibitions, etc. These are updated regularly. The map on the site will help you locate the museums.
Under Municipalities, you will find the museums arranged by municipality and also displayed on the adjacent map. Under Routes, there are suggestions for museum routes you can follow should you want to visit several museums with complementing themes. Current exhibitions and events taking place in the museums can be found under Events.
The aim of these pages is for the region's museums to gain exposure and to increase the amount of information available to visitors, thereby encouraging greater access. This website was realised through funding awarded by the National Board of Antiquities.
Credits
Commissioned by: The Provincial Museum of Western Uusimaa
Production funding: National Board of Antiquities
Produced by: Marikki Hakola, Kroma Productions Oy
Contents by: Peter Sjöstrand, Provincial Museum of Western Uusimaa
Multimedia Director: Liina Toiviainen
Photographer: Eva Tordera Nuño
Multimedia Services: Produs Oy
Graphic and multimedia design and implementation: Mika Tyyskä, Elektrik Pyjamas
Financial administration: Jaana Hertell-Amokrane, Artedata Oy
English translation: Visit Southpoint Finland Ab