Ajatus, kieli ja kanssakäyminen (Orig. title)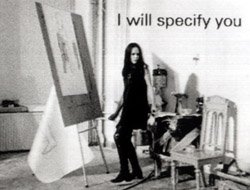 Director: Hannu Puttonen
Genre: Experimental Documentary
Production Year: 1995
Master Format: Beta SP PAL
Audio:  Stereo
Language: English
Distributor: Kroma Productions Ltd.
Synopsis
Internet is the most revolutionary step in media since Gutenberg. World Wide Web is the fastest spreading means of communication. So what?
Thought, language & communication gives a larger frame of reference that could be called with the epithet ' electronic media culture '. There are some other ways to describe this same hectic atmosphere we are supposed to share with millions of human beings just like us. We are so closely stuck with our screens and mouses on the numerous cool routes around the Net, that we have totally forgotten what´s going on in our real life or whatever we used to call it.
It is typical to this lofty rhetoric to tell about the unlimited possibilities of the new communication technology with future-oriented and over-optimistic, even highly enthusiastic catch-phrases. So, whose task is it to demythologize the lofty rhetoric of electronics – tear down the hype discourse and utopian slang of Nethematics?
Credits
Script & Direction: Hannu Puttonen
Featuring: Arthur & Marilouise Kroker
Director of Photography: Jaanis Kerkis
Music: Tristan
Editing: Raimo Uunila
Graphics: Milla Moilanen
Producer: Marikki Hakola
Production: KROMA Productions Ltd. 1995