Director: Hannu Puttonen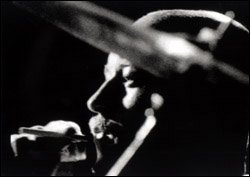 Genre: Music Clip
Duration: 6 min.
Production Year: 1995
Master Format: Beta SP PAL
Audio: Stereo
Synopsis
A: We call ourselves Tristan, because we truly think there should be a proper amount of death as well as love in every song, in every video. • • • B: Still, there are things we advise you not to put into a pop song.
A: Like? • • • B: Don't try to be too deep, too detailed, or you end up sounding as pretentious as us now pointing out this truth.
A: You mean: this is pop and nothing but pop? • • • B: Yep, and we failed completely to accept this fact when we where making this video for our song "These Important Years".

Credits
Script, Direction: Hannu Puttonen
Actors: Timo Kaukolampi, Mari Hakkarainen, Susanna Rapinoja, Keijo Tamminen
Featuring: Arthur & Marilouise Kroker
Director of Photography: Jaanis Kerkis
Editing: Raimo Uunila
Music: Tristan
Graphics: Milla Moilanen
Producer: Marikki Hakola
Production: Productions Ltd. 1995