Directors: Mikko Pitkänen, Heikki Paulaharju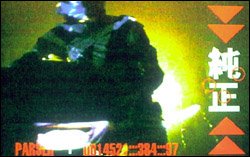 Genre: Music Clip
Duration: 3 min.
Production Year: 1995
Master Format: Beta SP PAL
Audio: Stereo
Synopsis
"Underhygiene" is a study of man in interaction with information controlled by machines… What are the results when human nervous system is subordinated to impulses of sound and sight generated by information intelligence system with far superior capabilities to a mind of a man…  And what happens when information addicted brain is cut off from it´s source and the flow of pictures and noise is stopped… irreversably!
Credits
Music written and performed by  The Insult that Made a Man Out of Mac
Script, Direction, Editing, Camera: Mikko Pitkänen, Heikki Paulaharju
On-line editing supervisor: Raimo Uunila
Graphics and Animation: Aki Kivelä
Japanese Translations: Tero Salomaa
Producer: Marikki Hakola
Production: Kroma Productions Ltd 1995
The 2nd prize in Oulu music video competition 1995.
Music Released by SPINEFARM RECORDS, c & p SPIN-FARM 1994