Director: Mikko Pitkänen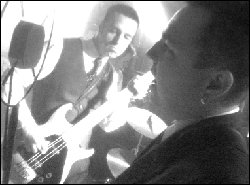 Genre: Music Clip
Duration: 3 min. 30 sec.
Production Year: 1996
Master Format: Beta SP PAL
Audio: Stereo
Synopsis
A journey to the world of light and shadows in the spirit of Film Noire. Recreation of Kafkas "Trial" shown in the visual style of Orson Welles crime – stories. A story relived from the stress of meaning or message. Uncontrollable wrath of the dark underworld poured on top of an innocent victim.
…Lack of justice will be streched to unbearable measures… This is entertainment! This is… TRASH
Credits
Script, Direction: Mikko Pitkänen
Starring: Espen Torstenssen, Sesa Lehto, Satu Luomala, Panu Vauhkonen, Aki Kivelä, Jari Kääriäinen, Jarkko Lyyra
Camera: Heikki Paulaharju
Editing: Mikko Pitkänen, Heikki Paulaharju
Stylist: Nina Nuorivaara
Scenography: Nina Jokinen
Sound Editing: Eeva Vänskä
Producer: Sanna-Kaisa Hakkarainen
Funded by: ESEK / Marit Hohtokari, Poko Records Ltd.
Production: Kroma Productions Ltd. 1996