Director: Milla Moilanen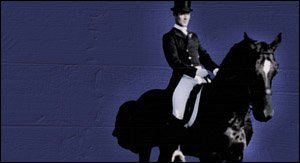 Genre: Animation
Duration: 11 min.
Production Year: 2001
Master Format: 35 mm film
Audio:  Stereo
Language: No language
Distributors: Kroma Productions Ltd.
Synopsis & Credits
In the short film PASSAGE both the psychical and physical skills of the man and the stallion are fused into a perfect, aesthetic performance. Into a dance.
Script, animation, editing, direction: Milla Moilanen
Cinematography: Raimo Uunila
The Rider: Marko Björs
The Horse: Don Carlos
Music: Antti Hytti
Sound: Epa Tamminen
Co-producer: YLE TV1/ Eila Werning
Producer: Sanna-Kaisa Hakkarainen / KROMA Productions Ltd. 2001