Directors: Riikka Poulsen and Raimo Uunila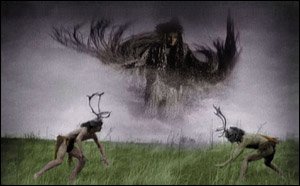 Genre: Documentary, Experimental
Duration: 27 min.
Production Year: 1997
Master Format: Beta SP PAL
Audio:  Stereo
Language: Finnish
Distributor: Kroma Productions Ltd.
Synopsis
Pre Kalevala is a drama documentary taking as its theme the search for the roots of "Finnishness". The film takes one on the journey of ten different artists back into the time of memories, heroes and gods. The film acts as intermediary, transmitting the feelings and heightened personal experiences of the Pre Kalevala period to the viewer. By means of this film they transport the viewer to the heart of a fanciful, pre-historic landscape. The film opens against the works' background of anecdote and submerges the viewer into the very roots of mythological Kalevala-esque times. The following artists appear in the film: Vertti Teräsvuori, Guy Hellström, Pekka Hiltunen, Eero Taskinen, Sirkka Könönen, Helena Lehtinen,  Jari Kettunen, Niina Pasanen, Nina Jokinen, and Jani Uljas.
Credits
Script, Direction, Camera, Editing: Riikka Poulsen and Raimo Uunila
Music: Antti Hytti and Jouni Takamäki
Sound Design: Epa Tamminen
Words: Heikki Vuento
Actor: Ilkka Heiskanen
Producer: Marikki Hakola
Production: Kroma Productions Ltd. 1997