MEDIASCAPE – MATKA MEDIAMAISEMAAN (Orig. title)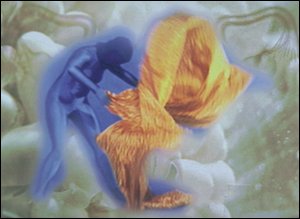 Director: Marikki Hakola  
Genre: Documentary, Performance, Experimental
Duration: 52 min.
Production Year: 1996
Master Format: Beta SP PAL
Audio:  Stereo
Language: Finnish
Distributor: Kroma Productions Ltd.
Synopsis
"MEDIASCAPE – a journey to a media landscape" is a television documentary about the arts and media project "Helsinki Mediascape". A young generation of artists came up with ideas that explored media culture from the viewpoint of electronic arts. "MEDIASCAPE" -project contains two parts: The first part was called "Helsinki Mediascape", which was a 90 minutes live tv-broadcast for the Finnish Broadcasting Company YLE, TV1 on August 24th 1994.
"Helsinki Mediascape" was an exeptional education project. 70 art students were guided by forty arts and media experts. Six very different art works, performances with electronic settings emerged which were dramatized into one 90 minutes live broadcast shown for the live and tv-audience on the stage of STOA, the cultural house in Helsinki. "Mediascape" was a part of the ISEA´94, the 5th International Symposium on Electronic Art. The enthusiastic and creative project was a success also internationally.
The second part of the project outlines student´s thoughts, concepts and visions of the human being in a media society. It describes experiments, filming, compiling, rehearsals and new methods and electronic tools of making art.
Credits
Direction: Marikki Hakola
Camera: Timo Anttila, Harri Laakso, Pekka Lehtinen, Aku Louhimies, Outi Rousu
Editing: Marikki Hakola, Raimo Uunila
Graphics: Escape-group, Kätsä Lähteenaho
Sound Design: Epa Tamminen, Marko Kataja
Producers: Marikki Hakola and Outi Rousu
Production: KROMA Productions Ltd. 1996