Directors: Raimo Uunila and Keijo Kivioja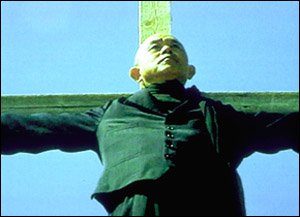 Genre: Documentary, Performance, Experimental
Duration: 23 min.
Production Year: 1996
Master Format: Beta SP PAL
Audio:  Stereo
Language: Finnish
Distributor: Grape Productions Ltd.
Synopsis
"Holy Men" is an experimental documentary about the Japanese network artist Shozo Shimamoto and Finnish performance artist Ilkka-Juhani Takalo-Eskola and their performance tour in Finland in 1993.
Both Shimamoto and Takalo-Eskola are internationally well known artists, whose careers includes multimedia works, performances, actions, manifestations, mail art, paintings, experimental releases and happenings all over the world. Takalo-Eskola has also been a head of the Academy of Fine arts in Helsinki, Finland. The content of the film include both unique material from the performances and also conversations and interaction between two strong characters and their audiences.
Credits
Performers: Shozo Shimamoto and Ilkka-Juhani Takalo-Eskola
Script and Direction: Raimo Uunila and Keijo Kivioja
Producer: Raimo Uunila / Kroma Productions Ltd. 1996