The Finnish part of the six documentary film series Girls around the World 
52 km Kuhmosta mehtään (orig. title) 
Director: Kaija Juurikkala
Genre: Documentary
Duration: 30 min. / 45 min.
Production Year: 1999
Master Format: DigiBeta
Audio:  Stereo
Distributor: Kroma Productions Ltd.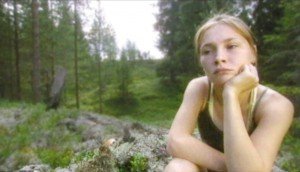 Synopsis
"Frontier" is a film about Tarja, a girl from an isolated region in the Eastern Finland, near Russian border. The location chosen for the theme's enactment, has Finland's highest rate of unemployment. A local study has shown that at the root of the girls' value systems is an inherent drive to escape their hometown. No one can imagine staying and not even the mothers hope that their daughters will remain. Film takes us into Tarja's life in a small farm in the long dark Nordic winter. In the summer she will leave home for the first time. This journey serves as a rite of passage for the youth. When she returns to her daily routine, she inevitably sees it in a new light. Original language: Finnish.
Credits
Script nd Direction: Kaija Juurikkala
Original idea: Outi Rousu
Camera: Marita Hällfors
Editing: Raimo Uunila, Kaija Juurikkala
Sound Recording: Laura Kuivalainen
Sound Design: Pekka Karjalainen / Kikeono ® Film Sound
Producers: Outi Rousu, Brenda Parkerson
Co-production: Trafik Film (Germany), Karaba Productions (France)
In association with: ZDF/3sat, YLE TV1, Euroarts Entertainment, AVEK
Girls around the World
"Daughters of War" is one of the six part documentary series GIRLS AROUND THE WORLD. It is a collection of extraordinary documentaries on seventeen-year-old girls across the globe. Each focuses on one girl – her hopes and dreams,world and worldview. Directed by local women filmmakers in Peru, Pakistan, Benin, China, Germany and Finland, a mosaic emerges that not only depicts the great diversity in the lives of these girls, but also embodies the perspectives of an international roster of contemporary female film makers. Production: Trafik Film (Germany), Kroma Productions (Finland), Karaba Productions (France) In association with: ZDF/3sat, YLE TV1, Euroarts Entertainment, AVEK.