Director: Milla Moilanen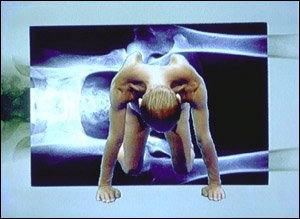 Genre: Animation
Duration: 6 min.
Production Year: 1994
Master Format: Beta SP PAL 4:3
Audio: Stereo
Language: No language
Distributor: Kroma Productions Ltd.
Synopsis
DEEP is a computer animation about a human being. The skeletons all appear alike until we can see the skin that covers them. The body is made up of bones, muscles, skin and hair: certain elements are common to every species. We resemble each other much more closely than we would like to think.
Credits
Script, direction, animation: Milla Moilanen
Dancer: Alpo Aaltokoski
Editing: Raimo Uunila
Photography: Keijo Kivioja, Milla Moilanen
Music: Miikka Kari, Epa Tamminen
Co-producer: YLE TV1 / Eila Werning
Producer: Marikki Hakola / KROMA Productions Ltd. 1994
Awards: State Quality Award '95 , National Council for Cinema, Finland