Media Artist: Pekka Niskanen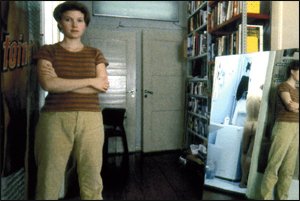 Genre: Installation, Video Art, Experimental
Duration: Loop
Production Year: 1998
Master Format: Beta SP PAL 4:3
Audio: Stereo
Language: English
Distributor: Kroma Productions Ltd.
Synopsis
The media installation describes the family´s internal relationships by the interaction of text, image and music. The four songs deal with family dynamics from a child´s point of view. The songs are concerned with children´s observations of both themselves as well as people who are not normally part of the family circle and ideas that are foreign to the family´s internal world. Unusual bodily features or strange behaviour of the other family members are observed without any preconceived expectations.
Credits
Script, direction, visual design and offline editing: Pekka Niskanen
Sound design: Timo Muurinen
Video photography and editing: Raimo Uunila
Music: Timo Muurinen, Jani Koskela, Mika Karhunen, Niko Ronimus, Jenny Robson
Actors: Jenny Robson, Stig Baumgartner, Hanne Ivars, Ville Koponen, Miikka Huttunen
Producers: Marikki Hakola and Tove Hagman / Kroma Productions Ltd. 1998