Genre: Live concert with the film projection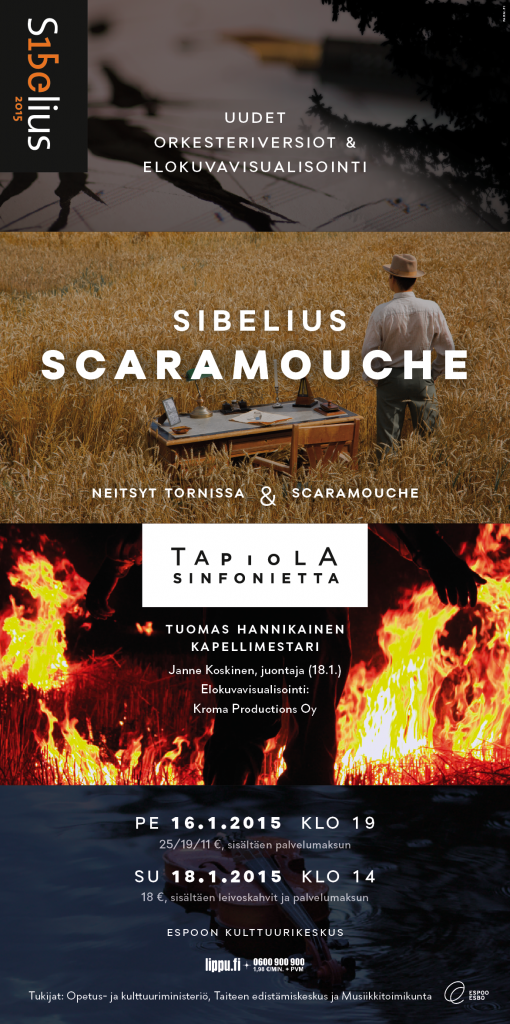 Music: Jean Sibelius
Conductor: Tuomas Hannikainen
Orchestra: Tapiola Sinfonietta
Film Team: Tuomas Hannikainen, Marikki Hakola, Raimo Uunila, Lauri Danska
Master Format HD ProRes
Duration: 40 min.
Production: Kroma Productions Ltd.
Web Site HERE
Premiere: 16th January 2014, Tapiolasali, Espoo, Finland
The Scaramouche music performance is a new version of the great incidental music piece by Sibelius. The premiere of the performance took place at the Tapiola Music Hall, Espoo, Finland, on January 16th 2015 at 19:00.  Music was performed by The Tapiola Sinfonietta Orchestra conducted by Tuomas Hannikainen. The live performance was visualized by using film projections. The original stage play was replaced with the dialogue inspired by letters between Jean Sibelius and his wife Aino Sibelius, and exerpts from the diaries of Jean Sibelius.
Classical music audiences throughout the world know the symphonic music of the great composer Jean Sibelius. Sibelius is considered as one of the greatest symphonists of the 20th century with his seven symphonies. But the incidental music of Sibelius is relatively little known. Sibelius wrote all together eighteen incidental music pieces, from which we know well conpositions such as Finlandia, Karelia suite, and Valse Triste.
Scaramouche op. 71, 1913 is one of the most interesting incidental music compositions by Jean Sibelius – and at the same time maybe one of his least known pieces. This music piece, composed originally for the 70 minutes ballet-pantomime, is a piece which more than any other incidental compositions by Sibelius yearns for the visual counterpartner to receive it's full highs.
More about the Scaramouche incidental music piece by composer Jean Sibelius HERE
Sibelius 150 The Jubilee year 2015 will mark the 150th anniversary of the birth of the great Finnish composer Jean Sibelius. The Scaramouche project is part of the jubilee programme. More HERE.
The conductor's word by Mr. Tuomas Hannikainen "As a conductor who is interested in music dramas, I consider Scaramouche to be an uniquely interesting music piece that opens possibilities in the field of many art forms. I would like the pictorial world to be based on music and score. I see that music should be exceptionally closely connected to the visual world. Like Sibelius composed for musicians to move also from the orchestral pit to the stage, and behind the stage, it would be interesting to study how musicians could be integral parts of the drama in these performances as well.
Scaramouche represents a certain kind of scenery of soul. Its symbolistic and surreal world sails in the counter-currents of realism and subconscious. In his seventh symphony, Sibelius' culminating "telescopic" music dramaturgy is already strongly realized in Scaramouche, whose story offers a content motive for this revolutionary composing technique: the hump-backed Scaramouche is the alien element that pushes quietly inside the system like a virus or antioxidant. Musically, the alienness of Scaramouche shows itself through Oriental colors and argumentative elements. The Tritonus motives of the work allude to the expressive world of the fourth symphony."